Dr. Gregory Lynam, Richmond's only double board-certified plastic and maxillofacial surgeon, specializes in cosmetic and plastic surgery of the face, breast, and body, as well as reconstructive surgery.
After being bit by a dog as a child, Dr. Gregory Lynam knew he wanted to be a plastic surgeon, and when the time came, Dr. Lynam moved to Richmond, Virginia to attend The University of Richmond. Later, following a tradition of European training in maxillofacial surgery, Dr. Lynam studied and obtained both a dental degree and a medical degree at the medical College of Virginia. Dr. Lynam completed his residency in 2003 in oral and maxillofacial surgery, and with a strong desire to operate on all parts of the body, Dr. Lynam completed several years of general surgery training before entering the plastic surgery training program at the Medical College of Virginia.
Comprehensive Training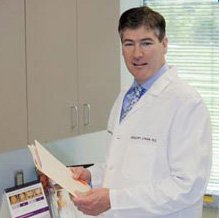 During his extensive plastic surgery training in both reconstructive and cosmetic surgery, Dr. Lynam also spent an additional one-year fellowship in cosmetic surgery under internationally respected Dr. Howard Tobin at the Cosmetic Surgical Center of Texas.
Dr. Lynam is board-certified by the American Board of Plastic Surgery, is a member of the American Society of Plastic Surgeons (ASPS), and he is affiliated with all the local hospitals in Richmond, Virginia.
Of his training, Dr. Lynam stated, "Cosmetic Plastic Surgery is an Art, Science and Craft. The additional years of education that I have allow me to be the only double board-certified Maxillofacial surgeon and Plastic surgeon in Richmond Virginia. My goal is to educate you and create a one-of-a-kind result for you." Dr. Lynam is also dedicated to providing the "highest level quality of care that you can achieve."
Dr. Gregory Lynam – Best Plastic Surgeon Richmond
Dr. Lynam was voted one of Richmond's "Top Docs" in plastic surgery and one of Richmond's "Best Plastic Surgeons to take you back 20 years" by Richmond Magazine.
Additionally, named an expert plastic surgeon by RealSelf, Dr. Gregory Lynam was honored as one of RealSelf's Top 100 Doctors. RealSelf, a medical information clearinghouse, "is the leading and most trusted source for people considering an elective cosmetic treatment…Millions of people come to RealSelf each month to make smart, confident choices about cosmetic surgeries and treatments — and to connect with vetted, board-certified doctors."
Talented, down-to-earth, and honest, Dr. Lynam's clients are more than happy to speak of his expertise and their experiences with the double-board certified plastic surgeon.
Regarding Dr. Lynam's compassion and kindness, Nala, who underwent a breast reduction in 2018, wrote, "If you are looking for a surgeon who genuinely cares about your wants and needs, Dr. Lynam is the one for you. From the first day I walked into his office until the date of my surgery, Dr. Lynam and his nurse Lauren were courteous, personable, and they always reassured me of any concerns that I may have had while getting ready to have a breast reduction. Dr. Lynam took my wants into consideration and made me feel a part of the process the entire time. On the day of my surgery (June 12th), he contacted me personally after I was discharged to see how I was feeling, and that meant a lot to me, because it showed me that I was not just another body on a surgical table to him. Dr. Lynam did a PHENOMENAL job with my reduction. I have a few more weeks before I can truly see the final result due to the swelling, but I can already see the symmetry and perkiness of my new breast size. By the second day after surgery I could already feel the weight lifted from my shoulders, and my husband said my posture had gotten better as well. (I was a 36G cup with headaches, neck, and shoulder pain from heavy breast). I can't thank Dr. Lynam and Lauren enough for being patient with my fears about surgery, and for giving me a better quality of life. The entire office is great from the front desk personnel to the back-office staff. I would highly recommend Dr. Lynam for any surgical procedure."
Olivia, who underwent breast augmentation in 2018, spoke of Dr. Lynam's professionalism and subject matter expertise. She wrote, "Absolutely seamless process from start to finish! I felt like the procedure was really catered to my personal needs/goals/body type. Dr. Lynam was professional and informative, I couldn't have felt more comfortable on the day of the procedure. So happy with the results!!"
Another reviewer wrote of her breast reduction and Dr. Lynam's friendly personality and patience, "I waited too long to get my breast reduction. I suffered for years before I started my research. Dr Lynam was highly recommended plastic surgeon in the Richmond area. Five minutes into my initial appointment I knew that this was the doctor I could trust. He was very personable, patient and willing to explain the entire process. I felt at ease and I knew this was the right choice. Dr Lynam did a phenomenal job! I couldn't be happier. I haven't felt this good in a very long time. His staff is equally great and helped me through the insurance process. My only regret is not doing this sooner. I wish someone told me about Dr. Lynam 10 years ago!"
With the aid of a highly trained staff, Dr. Lynam performed a 2018 breast augmentation for Rebekah, who later wrote about her experience. "Dr. Lynam did an amazing job with my breast augmentation. They look and feel real! He was able to give his opinion on matters that I need a little guidance on. And I'm so happy I went with his advice because they couldn't be more perfect! Also, his staff and facility were the best too! I'd highly recommended Dr. Lynam."
Additional reviews can be found here:
https://www.realself.com/find/Virginia/Richmond/Plastic-Surgeon/Gregory-Lynam
Dedicated to Service and the Richmond Community
Dr. Lynam has helped numerous people within the community tumor surgeries, breast reconstructions, and facial trauma surgeries.
Richmond Surgical Arts, Inc. and the Skin Rejuvenation Center
Richmond Surgical Arts, Inc., located at 8720 Stony Point Parkway, Suite 100, Richmond, Virginia, was founded by Dr. Gregory T. Lynam in 2003. Serving as Chief of Medical Staff, Stony Point Surgery Center is Richmond's preeminent outpatient surgical facility. Richmond Surgical Arts, Inc. is located near Stony Point Surgery Center.
The Skin Rejuvenation Center attached to Richmond Surgical Arts, Inc specializes in skin rejuvenation procedures including chemical peels, state-of-the-art laser treatment procedures, and a full line of medical-grade skin care products. Our skin care providers are expertly trained and deeply experienced in advanced procedures.
Dr. Lynam FAQ
Reflecting his knowledge, his compassion, and his understanding, Dr. Lynam recently responded to some online questions for RealSelf.
Can you keep the same implants if you decide to get a breast lift before 10 years are up?
Yes, the implants can be saved. If the implant pockets are soft, then this would be very reasonable. If the implants are of the textured variety, I would replace them with a smooth implant due to the association of textured implants with Breast Implant Associated-Anaplastic Large Cell Lymphoma (BIA-ALCL). Hope this helps, Good luck!
Should I go under the muscle or over the muscle? Doctor requested over but not sure. And scared to get capsular contracture
You have significant breast ptosis or low nipples as well as significant breast asymmetry and volume discrepancy. You are wise to be concerned about above the muscle and capsule formation. I have a few questions. What are your goals? What size breasts do you want? IMHO performing a breast lift and making you breasts a more youthful and symmetric size is what I would offer you as an initial procedure. If you are happy then fantastic. If at 3 months you really want larger breasts then we place a saline or silicone sub muscular implant which will have a significantly lower rate of CC and be more stable over time. You could do both procedures at once but a higher risk of complications and need for a revision surgery. Good Luck and update us on your decision.
I'm a 32 A, 120 pounds, 5'9 — 300 cc too big?
Size is hard to predict but a 300cc moderate plus saline implant should be a C cup for you. I prefer the armpit incision for saline implants as no viable breast scar. I do think the surgery is best performed with an endoscope for precise dissection and control of bleeding. I hope this helps good luck!
I am interested in Breast Augmentation and would love to have an unnoticeable scar. Most gummy bear procedures I've seen have inframammary incisions and I would prefer no under boob scars. Can I get a transaxillary incision instead? is it safe?
Yes, you can do this. It is an advanced procedure which IMHO should be done with an endoscope not a blind seep. Several Scandinavian countries have good study results doing this procedure. The implant size will dictate the incision length to some extent. Good Luck!
What CC do you suggest for my breast augmentation?
Size is important but also the shape or profile of the implant. A 12 cm base width with a moderate profile will be about 300cc which is about a 2 full cup size increase in breast size. I think 230 cc seems small. Evaluate lots of before and after pictures that look like you. You are researching things well and please update us on your choice. Good Luck!
Additional questions about other types of surgeries and Dr. Lynam's responses can be found here:
https://www.realself.com/find/Virginia/Richmond/Plastic-Surgeon/Gregory-Lynam#qa